Coach Hire Sligo, Leitrim, Donegal & Dublin
Fureys Coaches have a wide range of vehicles to suit all of your coach hire needs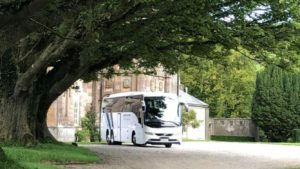 We specialise in Luxury car hire, Coach hire and Mini bus hire and we service the entire island of Ireland, with bases in Sligo, Leitrim, Donegal & Dublin. Whether you are looking for luxury coach hire for a group tour or you are looking to hire a mini-bus for a day trip – no matter your requirements, we have the perfect coach hire solution for you.
Over the years we have built, maintained, and established the Fureys promise, high quality and reliable coach hire.
When booking with Fureys Coaches you are hiring all-round excellence: from initial enquiry, to excellent customer service from our dedicated team of account managers, to the operation of your coach hire and the final accounting of your booking.
Every aspect of our company works to the highest standards, giving you complete peace of mind.
Our comfortable, modern, air-conditioned buses will take you just about anywhere you want to go. Every bus in our fleet is fitted with large panoramic windows and oversized seats with extra lumber support so that you can sit back, relax and let us drive while you enjoy the view. When you travel by bus you get time to see, feel, touch, smell and taste your way across our beautiful country.