Sports Team Transport Specialists
If you are looking for transport for your local or professional sports teams, Fureys Coaches are specialists in providing coach hire for sports teams and understand that a hassle free journey ensures the players are free to concentrate on the game ahead.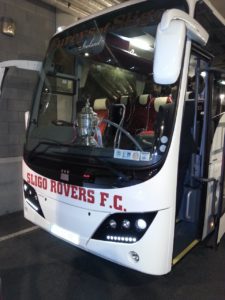 Our uniformed and professional drivers have a wealth of experience in transporting teams and groups, locally, throughout Ireland, UK and Europe. The driver is discreet and experienced in moving VIP Clients.
On your coach, you'll enjoy premium amenities such as plush reclining seats, air-conditioning, on-board toilets, and entertainment options such as WiFi, Dvd and HDMI facilities. Your team can relax, socialize, or watch a movie while you travel, ensuring that they'll be well-rested when it's finally game time.
We currently work with a number of football, soccer, rugby, athletics and swimming clubs and we are honoured to be the main transport provider for our local teams Sligo Rovers FC and Sligo GAA Club.
If you are travelling from outside of Ireland and require transport for your club from any airport to the away game, we are here to help too.
We can fit your team logo or crest to our coaches, why not call us to discuss 0719163092.
Supporter Travel
At Fureys Coaches we also understand that away support is a great way to show dedication to your team and help cheer them on when they do not have the advantage of the home crowd. That is why we provide coach hire to travelling fans no matter where they are going. We are proud to be the official coach transport for our local team Sligo Rovers FC and have enjoyed transporting their dedicated fans across the country.
Sports Tours & Training
Fureys Coaches supplies transport for schools and sports clubs for training,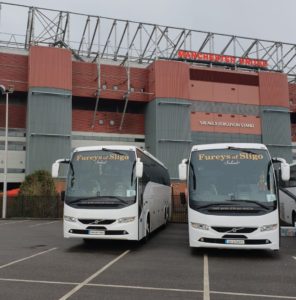 away games and coach hire for sports tours. If you are travelling into the UK or Europe for a summer tournament or need to get your whole club to the training ground, we have the perfect transport solution.
We also manage the coach hire for a range of professional sports teams including football, rugby, golf and cricket teams. So, if your team needs a coach to transport them around, get a competitive coach hire quote from us.